Sustainable. Modern. Zen.
Japanese inspired Tropical Modern Zen Eco-Chic Sustainable Green Design Architecture is a three-dimensional meditative art of form and function we co-designed with architect firm Luz de Piedra and only found at The Sanctuary at Two Rivers Yoga Retreat & Yoga Teacher Training Wellness Center in Costa Rica. We strategically use clean, simple lines and highlight the interior design with natural stone tiles and tropical hard woods. All of the structures were handcrafted by local craftsmen and artisans including details such as the stairs' steps, the balcony railings, the door handles, mirror frames, garden steps, clothing shelves, bathroom sinks, and all doors and windows. Hence, each structure looks and feels like a piece of fine furniture.
Sustainable construction methods and seismic engineering were applied throughout the whole design and development process. We did not use any earth moving machinery but rather used manpower to dig the foundation pedestals keeping our human impact to a minimum as well as leaving the natural contours of the earthen landscape the way Mother Nature has been sculpting this youngest landmass on the planet, at approximately 3 million years old.
We moved the heavy foundation pedestals into place with hand pulleys and wood logs similar to old world style construction. We even built scaffolding out of material that would eventually be used within the structures themselves. When you're off-grid and in the jungle you have to get creative!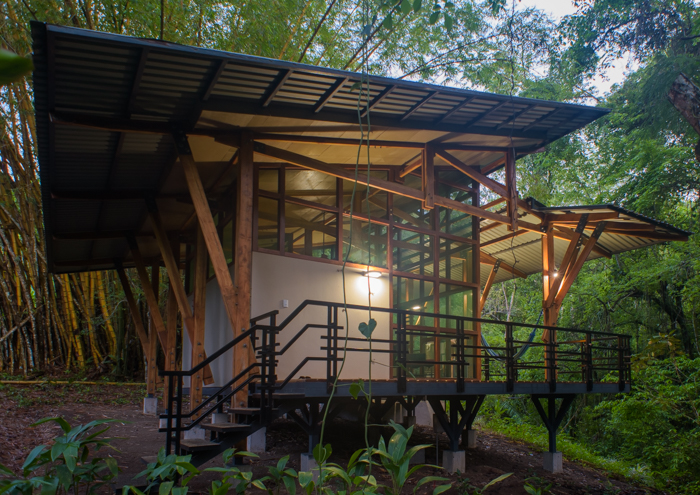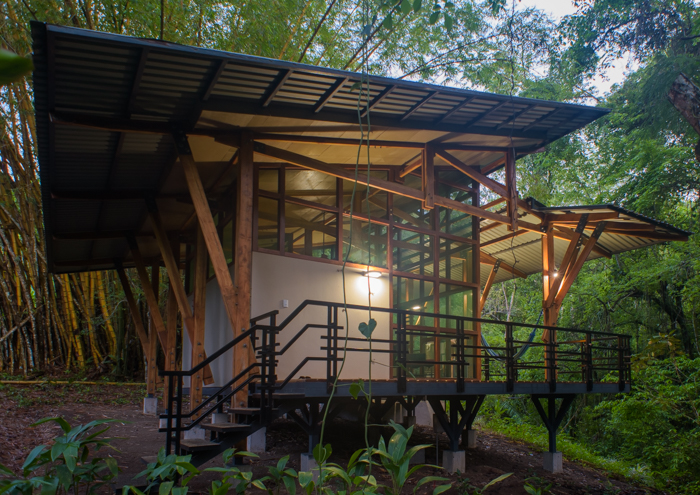 We designed all of our structures around a junglescape as opposed to the usual practice of landscaping afterwards around the structures. Eco-harvested teak wood was used for all of our structural wood.
The elevated structures allows for better natural air flow under and around the structures and gardens as well as puts you at eye level with the jungle canopy and passing monkeys. All structures were placed on specific compass axes to maximize cross-breezes and sun exposure. We also used ancient Indian Vastu harmonizing construction theories during the design process.
Get. More. Details.
Choose any of the options below for more info about your adventure of a lifetime!